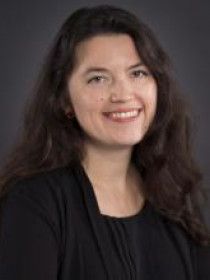 Dilara
Yarbrough
Associate Professor of Criminal Justice Studies, San Francisco State University
Connect with Dilara
About Dilara
Yarbrough's research focuses on how different types of governmental responses to poverty perpetuate or interrupt racial, gender and economic inequalities. Her research shows how the criminalization of homelessness, sex work, and drug use deepens poverty, and explores transformative alternatives including harm reduction and grassroots movements. Yarbrough also works to build the expertise and capacity of housing justice organizations to conduct their own research and policy advocacy. In collaboration with unhoused organizers and colleagues, she has presented findings about the criminalization of poverty to policymakers and community organizations.
Contributions
Dilara Yarbrough

Nicole Santamaria

Samuel Bosch

Mark Fleming
Publications
"
Ending the Crisis of Transgender Homelessness
" (with ).
San Francisco State University
(
2021
).
Centers the voices of transgender women of color and immigrants. Describes how trans women of color are deprived of housing at higher rates than cisgender people—one in every two trans people has been homeless—yet trans experiences and needs are routinely marginalized or excluded from discussions of homelessness policy, and trans-led organizations are rarely consulted about issues related to housing.
"
The Crisis of Transgender Homelessnness
"
Punishment and Society
22
, no.
5
(
2021
):
681-702
.
Discusses trans people experience rates of unemployment and homelessness that are disproportionately high compared with those of cisgender people. Mentions that when trans people seek support services, they often encounter the same dynamics of exclusion that contributed to job loss or housing deprivation in the first place.
"
Pervasive Penality: How the Criminalization of Homelessness Perpetuates Poverty
" (with ).
Social Problems
(
2019
).
Investigates the consequences of anti-homeless laws and enforcement. Examines how anti-homeless laws produce various forms of police interactions that fall short of arrest, yet have wide-ranging impacts on the urban poor. Constant policing creates and deepens poverty, and compounds inequality along the lines of race, gender and disability.
"
'You Start With the Youth:" Systemic Critique at a Homeless Service Organization
,"
American Sociological Association
,
August 1, 2015
.
Explores the development of political consciousness among homeless youth at an organization that provides housing and services. Based on interviews and ethnography with 18-24 year-olds in shelters, on the streets and in transitional housing, the study demonstrates how service providers can support social justice advocacy.
"
'Outlaw Poverty Not Prostitutes": Sex Workers' Responses to Poverty Management in San Francisco
,"
University of California, San Diego: Proquest Dissertation Publishing
,
February 1, 2016
.
Traces the lives of sex workers of all genders as they survive housing deprivation, incarceration, and social service programs, and shows how punitive responses create and maintain poverty, and investigates how harm reduction and grassroots movements can transform harmful systems. Refocuses scholarship about sex work on housing and labor market processes, and encourages scholars of homelessness to center race, gender, and sexuality in their analyses of economic inequality.
"
Punishing the Poorest: How San Francisco's Criminalization of Homelessness Perpetuates Poverty
," (with ),
Social Science Research Network
,
June 1, 2015
.
Details the extent and effects of the criminalization of homelessness in San Francisco. Findings have been reported in media and presented to local organizations and officials, including San Francisco' Local Homeless Coordinating Board, District Attorney, and Police Commission, as well as to the U.N. Special Rapporteur on Extreme Poverty and Human Rights.