Giving to the Scholars Strategy Network helps make sure media coverage, public policy, and civic engagement strategies are grounded in research and meeting the challenges of our time.
Here are just a few examples of SSN's recent work across the states—work that wouldn't be happening without supporters like you.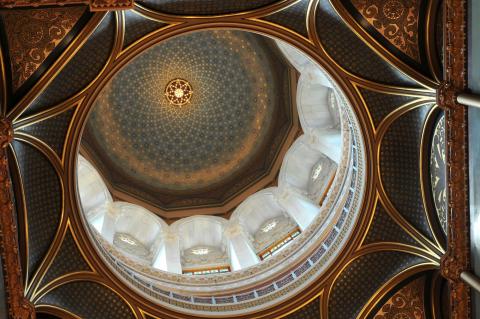 Starting a Column in Local Connecticut News Outlet
"The Connecticut Mirror focuses sharply on state politics and public policy….You can see, then, why we would value so highly commentary rooted in hard data, objective research and documented facts. That made partnering with SSN scholars from the state's universities a no brainer." – Paul Stern, CT Mirror Viewpoints Editor
Building Relationships with Policymakers in Maine
"SSN scholars can bring real stories from real Mainers and real Maine families…The things we are trying to decide—when we can talk about it in terms of our own Mainers, our own neighbors, our own community members, it's just really invaluable." - Charlotte Warren, Maine House Representative
Fighting Poverty in Georgia
"Our focus is on policy research and network-building across the South, so we were excited to support these five scholars as they examine the opportunity for the Southeast Crescent Regional Commission as it starts operations in the coming months." - Sarah Beth Gehl, Executive Director, Southern Economic Advancement Project
Collaborating with Local Civic Organizations in Alabama
"Through our 2022 partnership with SSN's Dr. Peter Jones, Alabama Appleseed was for the first time able to tell lawmakers just how expensive it is to suspend drivers' licenses…It means a lot to be able to fight 'tough-on-crime' rhetoric with facts." - Leah Nelson, Research Director, Alabama Appleseed
Jamila Michener on Addressing Racial Inequities
"Access to high quality, affordable health care offered to all, in ways that convey dignity and respect, has great potential to amplify the voices of those who are most economically and racially marginalized in American society, to build their power, and to create a more robust democracy." - Jamila Michener, Cornell University
Lee Hasselbacher Testifies for Repeal of Parental Notice Law
"Our research and that of others reveals the complicated lives of pregnant young people and suggests that they are the ones best able to identify the people in their lives who can help them make decisions about a pregnancy." - Lee Hasselbacher and Catherine Hennessey, University of Chicago.
Winifred Tate Advocates for Drug Policy Reform
"The need for expanding the Good Samaritan law is urgent. To stem this grim tide of death, we must do more, and we must empower everyone, especially those most likely to witness overdose deaths, people who use drugs and their loved ones, to keep people alive." - Professor Winifred Tate, Bangor Daily News
Sarah Verbiest Advocates for Medicaid Extension
"Without access to care, women and their families have to suffer through these challenges which can impact maternal, infant, and family well-being as well as work productivity for both parents," - Sarah Verbiest, University of North Carolina, Chapel Hill, and Belinda Pettiford, Department of Health and Human Services.
We would like to thank the following foundations for their generosity.