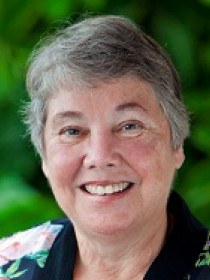 Susan
Meyers
Chandler
Director, Public Policy Center, and Professor of Public Administration, University of Hawai'i at Manoa
Connect with Susan
About Susan
Chandler's research focuses on child welfare services, evaluation and public sector Ciand organizational reform. Chandler has served as the Director of Human Services in Hawai'i from 1995-2002 and was a professor of social work for 25 years. She publishes in the areas of social services, child welfare policy, sustainability, organizational reform and nonprofit advocacy. Her most recent book, Backstage in a Bureaucracy: Politics and Public Service, was published by the University of Hawai'i press in 2011. She teaches in the areas of social policy, policy analysis, collaborative management and nonprofit management. She is the policy chair of Protecting Hawai'i's Ohana, Children, Underserved, Elderly and Disadvantaged (PHOCUSED, Inc.), a nonprofit advocacy organization.
Publications
"
Managing Innovative Collaborations: The Role of Facilitation and Other Strategies for Working Collaboratively
"
Human Service Organizations: Management, Leadership & Governance
41
, no.
2
(
2017
):
133-146
.
Shares an example of a successful collaborative effort designed to better coordinate and improve services for high-risk children and their families in the child welfare system. Analyzes many propositions developed in the research literature on successful collaborations, as well as the failures, and then make some suggestions to develop some "work-arounds."
"
The Application of Collaboration Models to Family Group Conferencing
"
The Journal of Policy Practice
12
, no.
1
(
2013
):
3-22
.
Analyzes theories and models of collaboration in child welfare system reform. Discusses how family group conferencing could be implemented as a new model of collaboration including parents and extended family members in the decision-making processes of child protection.
"
The Role of Nonprofits in America
" (with ), in
Human Resource Management in the Nonprofit Sector
, edited by
Ron Burke and Cary Cooper
(
Edward Elgar Publishing, 2012
).
Reviews the history and development of nonprofit organizations in the United States and their changing role in civil society. Examines the nonprofit sector's complicated relationship with the public sector.
"
Mental Health and Public Policy
" in
The Wiley-Blackwell Encyclopedia of Health, Illness, Behavior, and Society
, edited by
William C. Cockerham, Robert Dingwall, and Stella R. Quah
(
Wiley-Blackwell, 2012
).
Discusses the influence of federal, state and local laws, policies, administrative rules and regulations on the treatment and type of care provided in the system of mental health services in the United States. Looks at the implications of what treatment and services are covered in public and private insurance plans, who can practice, who will pay for services and how the government regulates access to mental health services.
"
Sexual Offender Registration and the Convention on the Rights of the Child: Legal and Policy Implications of Registering Juvenile Sex Offenders
" (with ).
William & Mary Policy Review
3
, no.
1
(
2011
):
1-35
.
Examines the consequences of sex offender registry laws for juvenile offenders and highlights the disconnect between these laws, the rights of children, and the policy goals of the American juvenile justice system (namely rehabilitation, reintegration, and maintaining the confidentiality of juvenile delinquency adjudications).
"
Backstage in a Bureaucracy: Politics and Public Service
" (with ) (
University of Hawai'i Press, 2011
).
Provides a first-hand, day-to-day look at running a large bureaucracy while illuminating the challenges and complexities of leadership in the government sector.