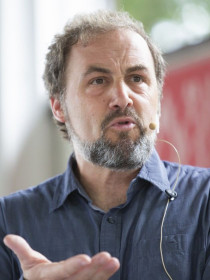 Steven
Conn
W. E. Smith Professor of History, Miami University
Connect with Steven
About Steven
Conn focuses on putting current political and cultural debates into a deeper historical context. In particular, he has written about: urban history, the historical role of the government in American life, the use of American history in our current debates, the history of institutions and of higher education. Conn is the founder and editor of the on-line journal Origins: Current Events in Historical Perspective. He is also an elected member of his local school board in Yellow Springs, Ohio.
Contributions
Publications
Americans Against the City: Anti-Urbanism in the 20th Century
(
Oxford University Press, 2014
).
Explores how the fear of ethno-racial diversity and a strong streak of anti-government and anti-statism shaped the American response to the city. Looks at how these ideas shaped policy and places.
To Promote the General Welfare: The Case for Big Government
(
Oxford University Press, 2012
).
Discusses a collection of essays by leading American historians including Brian Balogh, Kevin Boyle and Tom Sugrue. Evaluates aspects of American life including transportation, housing, banking and finance, and traces the role the Federal government has played in developing those areas. Articulates an antidote to Tea Party fulminations that we were once a nation of "small government."