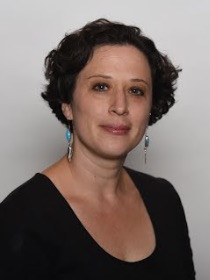 Shauna
Shames
Assistant Professor of Political Science, Rutgers University-Camden
Connect with Shauna
About Shauna
Shames' primary area of academic interest is American political behavior, with a focus on race, gender, and politics. For her dissertation research, she has been conducting and analyzing data from an original survey and a set of in-depth interviews about potential candidates' expectations about politics, political campaigns, and serving in elective office. Shames has published articles, reports, and book chapters on women as candidates, black women in Congress, comparative child care policy, work/family conflict, abortion, feminism in the U.S. and internationally, gay and lesbian rights, and U.S. public opinion. In addition, she has designed and taught courses (as an instructor and as a teaching fellow/assistant) on race, class, gender, American politics, women's studies, the history of feminism, freshman writing, and futuristic fiction, and has lectured widely on gender, race, and politics. She has worked for multiple nonprofit and foundation groups relating to women and politics, including NOW, the White House Project, the Salzburg Global Seminar, and the Parity Project of the Hunt Alternatives Fund.
Contributions
No Jargon Podcast
Publications
"
Out of the Running: Why Millennials Reject Political Careers and Why it Matters
" (
New York University Press, 2017
).
Draws from extensive research with graduate students in elite institutions that have historically been a direct link for their graduates into state or federal elected office to ask if millennials are as uninterested in political issues and the future of the American political system as the media suggests. Finds that they are not uninterested; rather, they do not believe that a career in politics is the best way to create change.
"
What, if Anything, is to be Done?
" in
The Un-Heavenly Chorus: Unequal Political Voice in America
, edited by
Kay Schlozman, Sidney Verba, and Henry Brady
(
Princeton University Press, 2012
),
534-572
.
Explores possible governmental policy solutions to the problem of unequal political voice.
"
Culture War?: A Closer Look at the Role of Religion, Denomination, and Religiosity in U.S. Public Opinion on Multiple Sexualities
" (with ), in
Faith, Politics, and Sexual Diversity in Canada and the U.S.
, edited by
David Rayside and Clyde Wilcox
(
University of British Columbia Press, 2011
),
29-48
.
Presents data analysis on public opinion about various gay/lesbian rights issues, finding that the more heavily religious and orthodox one is, the more likely to oppose expansions of GLBT rights.
"
Political Pathways to Child Care Policy
" (with ), in
Women and Politics Around the World
, edited by
Joyce Gelb and Marian Lief Palley
(
ABC-CLIO Press, 2008
),
143-158
.
Investigates pathways to child care policy for women's movements across six countries.
"
Mother's Dreams: Abortion and the High Price of Motherhood
" (with ).
University of Pennsylvania Law Review
6
, no.
4
(
2004
):
818-843
.
Argues that women get abortions for reasons having to do with their dreams for their existing and future children, including wanting good education, enough food, and good parenting for the children.