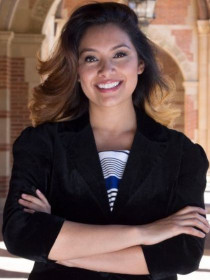 Sayil
Camacho
Postdoctoral Fellow, Vanderbilt University
Connect with Sayil
About Sayil
Camacho received her PhD from the Graduate School of Education & Information Studies at the University of California, Los Angeles. She studies workplace climate and immigrant populations,  exploring the relationship between academic labor and migrant identity. Her interests include the work experiences of undocumented young adults and the effects of the Deferred Action for Childhood Arrivals federal program. During her time as a graduate student, Camacho conceptualized and implemented research studies to support campaigns and processes for policy reform. She is committed to strengthening universities through research, practice, partnership, and inclusion and is the recipient of the 2017 UCLA Diversity, Equity, and Inclusion award by the UCLA Academic Senate and the 2018 Association for Public Policy and Management 40 for 40 Fellowship.  She is based at Vanderbilt University.
Contributions
No Jargon Podcast
Publications
"
Breaking the Silence: The Unionization of Postdoctoral Workers at the University of California
" (with ).
Journal of Higher Education
86
, no.
2
(
2015
):
295-325
.
Examines the postdoctoral unionization movement at the University of California using case study methodology. More specifically, we examine postdoctoral union organizers involved in the United Automobile Workers of America Local 5810, focusing on their efforts to unionize postdoctoral employees at the University of California.
"
The Massive Open Online Course Movement, xMOOCs, and Faculty Labor
" (with ).
Review of Higher Education
38
, no.
3
(
2015
):
397-424
.
Examines a broad range of texts to make sense of the rise of the massive open online course (MOOC) movement and implications for faculty work. Drawing on Braverman's labor process theory and critiques of neoliberalism, the authors highlight the role of xMOOCs in particular, focusing on challenges to faculty labor.