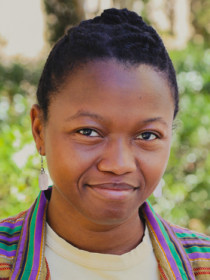 Omotayo
Jolaosho
1985 - 2021
Faculty, School of Interdisciplinary Global Studies, University of South Florida
Omotayo Jolaosho passed away on October 22, 2021. Read Omotayo's obituary here.
About Omotayo
Jolaosho's research focuses on political performances, collective activism, protests, and bodily experience. Overarching themes in Jolaosho's writings include the multiple roles of freedom songs and protest dances at activist events, the significance of gesture and the moving body for political mobilization, gendered experiences of activism, and strategies for societal transformation among marginalized communities. Jolaosho has worked with activist organizations in Johannesburg, South Africa, including the Anti-Privatisation Forum and the 1-in-9 Campaign.
Contributions
Publications
African Women Writing Resistance
(edited with ) (
The University of Wisconsin Press, 2010
).
Discusses the first transnational anthology focused on African women's narratives of resistance to the challenges they experience on the continent and within its diaspora.