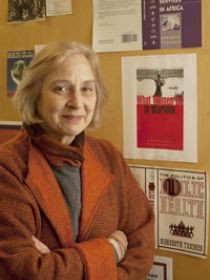 Meredeth
Turshen
Professor Emerita of Planning and Public Policy, Rutgers University
Connect with Meredeth
About Meredeth
Turshen is a Professor Emeritus in the Edward J. Bloustein School of Planning and Public Policy at Rutgers University. Turshen's research interests include international health and she specializes in public health policy. Turshen has written four books, The Political Ecology of Disease in Tanzania (1984), The Politics of Public Health (1989), and Privatizing Health Services in Africa (1999), all published by Rutgers University Press, and Women's Health Movements: A Global Force for Change (2007; 2019) published by Palgrave Macmillan. Turshen has edited six other books, Women and Health in Africa (Africa World Press, 1991), Women's Lives and Public Policy: The International Experience(Greenwood, 1993), What Women Do in Wartime: Gender and Conflict in Africa (Zed Books, 1998), which was translated into French (L'Harmattan, 2001), African Women's Health (Africa World Press, 2000), The Aftermath: Women in Postconflict Transformation (Zed Books, 2002), and African Women: A political economy (Palgrave Macmillan, 2010). Turshen has served on the boards of the Association of Concerned Africa Scholars, the Committee for Health in Southern Africa, and the Review of African Political Economy, and is on the editorial board of the Journal of Public Health Policy.
Contributions
Publications
Women's Health Movements: A Global Force for Change
(
Palgrave Macmillan, September 2019
).
Follows the implications of the changed landscape for women's health and health care and their sexual and reproductive rights. , Notes, in the latest developments in national and international health policy, the effects of a series of concerted conservative attacks on women. Finds women's health movements are using the new technologies of the Internet and social media and finding other novel ways to advance their rights and protest against attempts to roll back the gains they made in the last four decades.
Gender and the Political Economy of Conflict in Africa: The Persistence of Violence
(
Routledge, 2016
).
Explores the persistence of violence in conflict zones in Africa using a political economy framework. Employs an analysis of violence on both edges of the spectrum—a macro-economic analysis of violence against workers and a micro-political analysis of the violence in women's reproductive lives. Comes together to create a new explanation of why violence persists, a new political economy of violence against women, and a new theoretical understanding of the relation between production and reproduction.
African Women: A Political Economy
(
Palgrave Macmillan, 2010
).
Presents three main themes of African women: African feminism, women and work, and women and politics, to inform readers of the current debates, to encourage new thinking on these issues, and to indicate areas for needed research.
The Aftermath: Women in Post-Conflict Transformation
(edited with ) (
Zed Books, 2002
).
Asserts that for women there is no aftermath to conflict - a truce does not end gender violence. Asks how transitions from war to peace and from authoritarian to democratic regimes can become opportunities for real social change.
Privatizing Health Services in Africa
(
Rutgers University Press, 1999
).
Analyzes the disappearance of public health in the form of state services in Africa, and the growth of a private market in health care that will serve primarily an urban elite.
What Women Do in Wartime: Gender and Conflict in Africa
(edited with ) (
Zed Books, 1998
).
Describes and analyzes the experience of women in African civil wars. Presents a mixture of reportage, testimony and scholarship. Includes contributions from women in Chad, Liberia, Mozambique, Namibia, Rwanda, South Africa and Sudan.