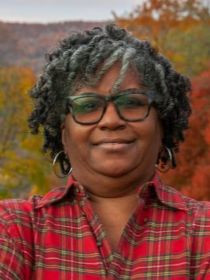 Lessie
Branch
Adjunct Assistant Professor of Urban Studies, Queens College, City University of New York
Associate Dean, School for Business, Metropolitan College of New York
Connect with Lessie
About Lessie
Branch's research examines the gulf between Black optimism about group process and the actual data on continuing disparities and potentially speaks to wider questions of social knowledge, social beliefs, and relative group position; even to questions of "consciousness." She is a Racial Policy Scholar and a Fulbright Specialist in Race, Ethnicity, and Religion in Politics and Senior Research Fellow at the Dubois Bunche Center for Public Policy at Medgar Evers College. She is the Associate Dean at Metropolitan College of New York in their School for Business.
Contributions
Publications
Optimism at All Costs: Black Attitudes, Activism and Advancement in Obama's America
(
University of Massachusetts Press, 2018
).
Explains the paradox of Obama era black optimism despite continued black socioeconomic stagnation. Engages in clarification of an evolution from a "linked-fate" political discourse to a "post-racial/bootstrap" frame that focuses on individualism to achieve racial parity.