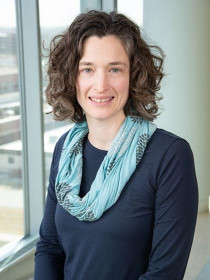 Kate
Coleman-Minahan
Assistant Professor of Nursing, University of Colorado Anschutz Medical Campus
Connect with Kate
About Kate
Coleman-Minahan's research focuses on reproductive health equity. She situates reproductive aspirations and actions in a social and structural context and evaluates how health and social policy impact access to and quality of contraception and abortion care, specifically among young people and immigrants. Overarching themes in Coleman-Minahan's writings include structural and gender inequity and stigma. Coleman-Minahan practices as a nurse practitioner at an adolescent family planning clinic, collaborates with reproductive justice organizations, and has provided her research and clinical experience in legislative testimony.
Publications
"
Psychometric Properties of the Brief Social Capital for Youth Sexual and Reproductive Health Instrument
" (with ).
Youth & Society
(
forthcoming, 2017
).
Describes development and validation of the Brief Social Capital for Youth Sexual and Reproductive Health Scale using exploratory and confirmatory factor analysis with survey data from a low-income, diverse race/ethnic group of youth in Colorado.
"
Contraception after Delivery among Publicly Insured Women in Texas: Use Compared with Preference
" (with ).
Obstetrics & Gynecology
130
, no.
2
(
2017
):
393-402
.
Assesses women's preferences for contraception after delivery and compares use with preferences.
"
Prevalence and Predictors of Prenatal and Postpartum Contraceptive Counseling in Two Texas Cities
" (with ).
Women's Health Issues
(
2017
).
Uses data from a prospective cohort study of 803 Texas women to examine prenatal and postpartum contraceptive counseling. Results suggest that prenatal and postpartum contraceptive counseling on IUDs and implants occur infrequently among the study sample and vary by sociodemographic characteristics, including women's socioeconomic status and where they received prenatal care (private vs. public practice).
"
Immigrant Generation and Sexual Initiation among a Diverse Racial/Ethnic Group of Urban Youth
" (with ).
Journal of Immigrant and Minority Health
(
2016
):
1-8
.
Uses logistic regression models to predict the odds of intentions to have sex and sexual experience, adding covariates that could account for differences in outcomes by immigrant generation. Results suggest that first generation immigrant youth of diverse race/ethnic groups have lower risk of early sexual initiation than second and third generation youth and that a supportive community may decrease risk of early sexual initiation.
"
The Role of Older Siblings in the Sexual and Reproductive Health of Mexican-Origin Young Women in Migrant Families
" (with ).
Culture, Health and Sexuality
19
, no.
2
(
2016
):
151-164
.
Examines the influence of older siblings on reproductive health of Mexican-origin immigrant women. Data suggest that older siblings may protect younger sisters from risky sexual behaviors through older siblings' responsibility and care for younger siblings, close and supportive sibling relationships, older siblings' advice about both sexual health and academic success, and sibling modeling.