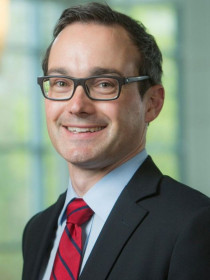 Joseph
Blocher
Professor of Law, Duke University
Connect with Joseph
About Joseph
Blocher teaches and writes about constitutional law, especially the First and Second Amendments. His recent work has focused on free speech and on the developing legal regime regarding gun rights and gun regulation, and has been cited by many federal courts.
Contributions
Publications
"
Firearm Localism
"
Yale Law Journal
123
(
forthcoming
).
Argues that Second Amendment doctrine can and should incorporate the longstanding and sensible American tradition of regulating guns more strictly in cities than in rural areas.
The Positive Second Amendment: Rights, Regulation, and the Future of Heller
(with ) (
Cambridge University Press, 2018
).
Summarizes and analyzes the history of constitutional theory behind the Second Amendment, in the aftermath of the 2008 DC v. Heller Supreme Court case.
"
Nonsense and the Freedom of Speech: What Meaning Means for the First Amendment
"
Duke Law Journal
62
(
2014
):
1423-1481
.
Analyzes the constitutional basis for "nonsense" speech acts in the context of First Amendment protections. Finds that meaningful and meaningless speech are intertwined, and that how words are used are important, not just how they relate to concepts beyond the words themselves.
"
The Right Not to Keep or Bear Arms
"
Stanford Law Review
64
(
2012
):
1-54
.
Argues that the Second Amendment should be read to encompass both the right to keep and bear arms for self-defense AND the right to protect oneself by avoiding them altogether, and shows what implications the latter right may have.
"
Popular Constitutionalism and State Attorneys General
"
Harvard Law Review Forum
122
(
2011
):
108-115
.
Argues that the State Attorneys General who advocated incorporation of the Second Amendment against the states owe more to popular constitutionalism than to federalism.
"
Categoricalism and Balancing in First and Second Amendment Analysis
"
NYU Law Review
84
(
2009
):
375-434
.
Uses free speech law to describe and predict what Heller's categoricalism means for Second Amendment doctrine. Argues that the Court's categorical line drawing creates intractable difficulties for Second Amendment doctrine and theory and that the majority's categoricalism neither reflects nor enables a clear view of the Amendment's underlying values, whatever they may be.