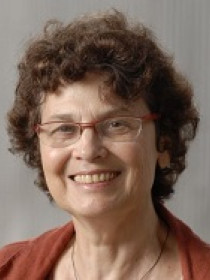 Elizabeth
Rapaport
Professor Emerita of Law and Philosophy, University of New Mexico School of Law
Connect with Elizabeth
About Elizabeth
Rapaport's current research is on the burgeoning geriatric population in U.S. prisons. The geriatric prison population is but one symptom of a grave social crisis we face: mass incarceration. Her research interests include women and crime, capital punishment, executive clemency, legal issues arising out of the War on Terrorism, and U.S. and international law on torture. As a professor at the University of New Mexico's Law School, she regularly teaches courses on Criminal Law, Constitutional Criminal Procedure, International Criminal Law, Legal Ethics, and Jurisprudence.
Contributions
In the News
Elizabeth Rapaport
's research on
prosecutorial discretion in cases of accidental death of a child
discussed by ,
"Very Difficult Cases,"
Albuquerque Journal
,
August 11, 2012
.
Publications
"
A Modest Proposal: The Aged of Death Row Should be Deemed Too Old to Execute
"
Brooklyn Law Review
77
(
2012
):
1089
.
Documents the emergence of a geriatric death row population in the U.S. A death sentence does not mean execution but rather lengthy further litigation. The argument is made that the U.S. Constitution should be interpreted to bar a de facto sentence of decades of death row incarceration plus execution.
"
Torture after Nuremburg: U.S. Law and Practice
" in
Rights, Citizenship and Torture
, edited by
John Parry and Welat Zedan
(
Oxford University Press, 2009
).
Explores the history of U.S. torture law, arguing that even prior the George W. Bush era U.S. torture law was all too permissive of human rights violations and must be strengthened.
"
Mad Women and Desperate Girls: Infanticide and Child Homicide in Law & Myth, Women & Crime Symposium
"
Fordham Urban Law Journal
33
(
2006
).
Argues that women who kill their children are vulnerable to excessive punishment if they deviate from, or are portrayed as deviating from, stereotypical ideas of what constitutes a good woman and a good mother.
"
The Georgia Immigration Pardons: A Case Study in Mass Clemency
"
Federal Sentencing Reporter
13
(
2001
).
Explores a remarkable episode where the Georgia Pardon Board granted dozens of pardons to petty criminals otherwise faced with deportation because of minor and long-ago criminal acts.
"
Sex and Politics at the Close of the 20th Century: A Feminist Looks Back at the Clinton Impeachment
" in
Aftermath: The Clinton Impeachment and the Presidency and in the Age of Political Spectacle
, edited by
Leonard Kaplan and Beverly I. Moran
(
New York University Press, 2001
).
Examines and compares feminist reaction to the Clinton impeachment and the Senate confirmation of Clarence Thomas.
"
Capital Murder, Gender, and the Domestic Discount
"
Southern Methodist University Law Review
49
(
1996
).
Advances the thesis, based on of survey of women's and men's capital cases, that there is a "domestic discount:" our law of homicide and our trial results reflect a hierarchy of offense seriousness in which killing of intimates is, relatively speaking, less heavily penalized than stranger killing.