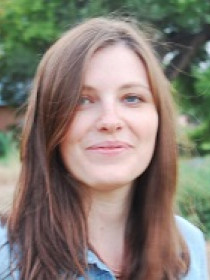 Elise
Trott Jaramillo
Associate Research Scientist, Pacific Institute for Research and Evaluation
Connect with Elise
About Elise
Trott's research focuses on grassroots political organizing around natural resources, particularly water management. Her dissertation research examines how organizers of New Mexico's "acequias" (communally-managed irrigation ditches) connect communal water management to social justice, environmental health, and community wellbeing. Trott's work has been funded by the Andrew W. Mellon Foundation, as well as the New Mexico Water Resources Research Institute, which emphasizes research-based approaches to water-related problems in the Southwest and along the U.S.-Mexico border. She has also been involved in participatory research with the New Mexico Acequia Association, a nonprofit organization that seeks to protect water rights and traditions of small-scale agriculture among the state's rural and disadvantaged communities.
Contributions
Elise Trott Jaramillo

Emily A. Haozous
Publications
"
'Planting Seeds is a Metaphor': Being Agrarian, Agricultural Activism, and Emergent Identity in New Mexico
,"
Master's Thesis, University of New Mexico Department of Anthropology
,
2012
.
Argues that organizers of New Mexico's communally-managed irrigation ditches advance a vision of agrarian identity that strategically transcends divisive ethnic identity markers. Argues that by so doing, they are creating a broad-based movement to protect community water rights and small-scale agriculture.
"
Structural Inequality and Social Support for Women Prisoners Released to Rural Communities
" (with ).
Women and Criminal Justice
(
2015
).
Examines the return of women prisoners to underserved rural communities and the perspectives of their closest social supporters through semi-structured interviews and focus groups. Challenges discourses of personal responsibility that detract from the structural violence and injustice shaping their experiences and considers policy implications and strategies to reduce recidivism.