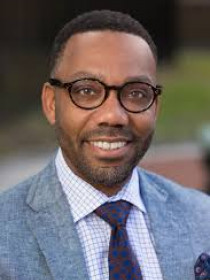 Andre
M.
Perry
David M. Rubenstein Fellow, Brookings Institution, Metropolitan Policy Program
Connect with Andre
About Andre
Perry's research focuses on race and structural inequality, education, and economic inclusion. Overarching themes in Perry's writings include race, structural inequality, and the condition of urban schools. Perry's recent scholarship at Brookings has analyzed majority-black places and institutions in America, focusing on highlighting valuable assets worthy of increased investment. Perry has previously been a founding dean, professor, award-winning journalist, and activist in the field of education.
Contributions
No Jargon Podcast
Publications
"
The Rise of Black-Majority Cities
," (with ),
Brookings Institution
,
February 26, 2019
.
Notes that black-majority cities are rising amid a national conversation surrounding whether they can improve and develop while retaining their black majority. Finds these places often beset by white flight and home devaluation, which totals $156 billion in losses nationally, planners and sociologists use terms like "gentrification," "merger," "annexation," "bankruptcy," and "de-annexation" to convey a positive strategy for renewal and growth in black-majority cities.
"
Black Women are Looking Forward to the 2020 Elections
,"
Brookings Institution
,
January 10, 2019
.
Finds that black women's votes are particularly important given that there are many fewer eligible male voters in many districts throughout the country (see Table 2). Notes that assessments that black women turned out for Democrats in service of the party emphatically miss the mark. Finds turned out to advance their own agenda that others can rally behind.
"
Analysis of Black Women's Electoral Strength in an Era of Fractured Politics
,"
Brookings Institution
,
September 10, 2018
.
Analyzes the demographic variables associated with the elections of black women. Examines circumstances potentially impacting electoral success. Finds these insights can be used to create a framework—a blueprint—that can help boost black women, and their supporters, to succeed in attaining more reflective representation in elected office at various levels of government.