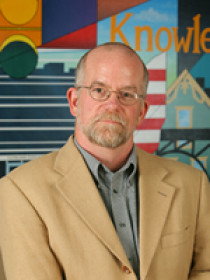 William
Milton
Bowen
Professor of Urban Studies and Public Administration, Cleveland State University
Connect with William
About William
Bowen's research focuses on  research-based decision-making and problem solving in regional analysis and planning. Overarching themes in his writings include economic development, energy policy, and environmental issues. When he is not engaged in scholarship, he spends his time in various leadership roles in the Boy Scouts of America. He is also the lead guitar player for a local classic rock and blues band.
Contributions
Publications
"
State Spending for Higher Education: Does it Improve Economic Performance?
" (with ).
Regional Science Policy and Practice
9
, no.
1
(
2017
):
7–23
.
Considers whether increases in state-level economic performance caused increases in regional spending for higher education, or vice versa in the United States for the period 1989–2014. Confirms the hypothesis that in the short term of four years or less the direction of causality goes in the opposite direction from the one conventionally assumed.
"
Higher Education, Governance, and Academic Freedom
" (with ), in
(Re)Discovering University Autonomy: the Global Market Paradox of Stakeholder and Educational Values in Higher Education
, edited by
Romeo V. Turcan, John E. Reilly, and Larisa Bugaian
(
Palgrave Macmillan, 2015
),
27-44
.
Asserts the core purpose of universities is knowledge formation. Asses the threats to universities as bastions of knowledge and free thought.
"
The End of Academic Freedom: The Coming Obliteration of the Core Purpose of the University
" (with ) (
Information Age Press, 2014
).
Explains why academic freedom is a protection for the core purpose of the university, which is to create, preserve, transmit and find new applications for knowledge. Displays how the set of idea vetting systems described in this book threaten this protection.
"
The Chief Purpose of Universities: Academic Discourse and the Diversity of Ideas
" (with ) (
MSL Academic Endeavors, 2010
).
Establishes the purpose of universities is to conserve the variation of ideas and defends this role as the primary adaptive mechanism of the human species.