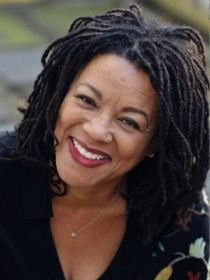 Vilna
Bashi Treitler
Professor of Sociology and Black Studies and Chair of the Department of Black Studies, University of California, Santa Barbara
About Vilna
Bashi Treitler's research focuses on immigration, race, and ethnicity. She is a scholar of the history of racial thought and prejudice, the history of ethnic groups in the United States of America, and how immigrant groups are socially and economically incorporated into new societies. Bashi Treitler's scholarship works to explain how and under what circumstances we create hierarchies that value some humans more than others (like race, class, gender, or even unequal world systems), and how these hierarchical systems can change or be dismantled. Bashi Treitler currently serves as Vice-Chair of the United Nations Committee for the Elimination of Racism, Afrophobia, and Colorism (CERAC), and Vice President of the Eastern Sociological Society. She has been recognized for her work in qualitative research methods, and is also a visual artist. Over her lifetime she has been and remains involved in social justice work and social activism.
Contributions
In the News
"
I Have a Dream– Has King's Vision Been Realized?
," Vilna Bashi Treitler, Interview with
Brent Goff
,
Agenda
,
August 27, 2013
.
Publications
"
Globalized Anti-Blackness: Transnationalizing Western Immigration, Law, Policy, and Practice
"
Ethnic and Racial Studies
27
, no.
4
(
2004
):
584-606
.
Offers clear comparative historical evidence the U.S., Canada and the United Kingdom, in particular colluded to use a variety of legal and extra-legal strategies to limit or bar entry of black persons into these First World nations, except as temporary labour expected and encouraged to return when no longer needed.
"
The Ethnic Project: Transforming Racial Fictions into Ethnic Factions
" (with ) (
Stanford University Press, 2013
).
Traces the ethnic history of the United States showing how immigrant and indigenous groups – Irish, Chinese, Italians, Jews, Native Americans, Mexicans, Afro-Caribbeans, and African Americans negotiate America's racial hierarchy, hoping to make better lives for themselves but at the same time perpetuating racist beliefs.
"
Social Agency and White Supremacy in Immigration Scholarship
"
The Sociology of Race and Ethnicity
1
, no.
1
(
2015
):
153-165
.
Criticizes assimilationism (scholarship on ethnic groups that credit group culture with success/failure) by showing how theories of racialization (that focus on white supremacy and the unequal ends it engenders) better explain ethnic group differences. Issues a call to scholars to altogether cease using assimilationist frames to understand migration and ethnic incorporation.
"
Dynamics of Inequalities in a Global Perspective
" (with ).
Current Sociology
64
, no.
2
(
2015
):
159-171
.
Uses race, class, gender, caste, and national citizenship to explain how patterns of inequality associated with global capital are rightly traced back to a history of imperial and colonial power (and are not simply manifestations of economic inequality rooted in improper handling of current economic and political structures).
"
Survival of the Knitted: Immigrant Social Networks in a Stratified World
" (
Stanford University Press, 2007
).
Offers a new general model of networked migration that shows networks to be crucial to migrants throughout their lives (not just at singular economically-important moments) that are global and transational resource-rich connections used to help them fight global inequality.
Race in Transnational and Transracial Adoption
(edited with ) (
Palgrave Macmillan, 2015
).
Interrogates the places where race intervenes when parents form families by reaching across social barriers (the color line, or the boundaries between 'First World' and' Third World' nations) to adopt children, as the editor and the volumes' contributors tackle questions of how adoption agencies engage race online; how parents understand race as a factor in raising their adopted children; how culture camps engage with parents and children about racial issues;and how social policy shapes the racial aspects of adoption, for better or worse.