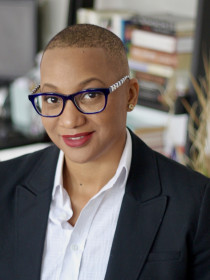 Tia
Sherèe
Gaynor
Associate Professor of Political Science, University of Cincinnati-Main Campus
Connect with Tia
About Tia
Gaynor is Director of the Center for Truth, Racial Healing & Transformation and Taft Professor of Social Justice at the University of Cincinnati. Her research focuses on the unjust experiences that individuals at the intersection of race, gender identity, and sexual orientation have when interacting with systemic racism and social hierarchy in public administration.
Contributions
No Jargon Podcast
Publications
Teaching The Wire: Frameworks, Theories, and Strategies for the Classroom
(with ) (
McFarland Books, 2016
).
Analyzes various approaches for using The Wire to bring the experiences of marginalized communities into the post-secondary classroom as means for examining critical social issues. The contributors cover a range of topics including leadership, sexuality, class, gender and race.
"
Vampires Suck: Parallel Narratives in the Marginalization of the Other
"
Theory & Praxis
36
, no.
3
(
2014
):
348–373
.
This article draws parallels between the narratives of vampires in the television show True Blood and the narratives of marginalized populations in the United States. Ultimately, this piece of research demonstrates how marginalized residents are treated like fictional vampires.
"
Building Democracy: Community Development Corporations' Influence on Democratic Participation, the Case of Newark, NJ
"
Operant Subjectivity: The International Journal of Q Methodology
36
, no.
2
(
2013
):
93-113
.
Explores the perceptions community residents hold on Community Development Corporations ability to foster engagement with local government.