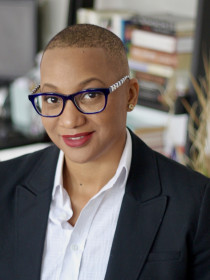 Tia
Sherèe
Gaynor
Assistant Professor of Political Science, University of Cincinnati
Connect with Tia
About Tia
Gaynor's research and teaching focus on issues of social justice in the United States. Specifically, her work seeks to highlight how public administrators and public policy often work to marginalize people of color and those who identify as LGBTQ.  Through her research, Gaynor strives to identify avenues to help address existing inequalities in U.S. society. Gaynor teaches in the Department of Public and Nonprofit Administration in the School of Management at Marist College in Poughkeepsie, New York. Gaynor serves as a social equity fellow with the Center for Accountability and Performance, received the Social Justice Curriculum Award for incorporating issues of social justice into core graduate public administration courses, and recently was awarded a grant through the Department of Justice to investigate discriminatory policing affecting LGBTQ people of color.
Contributions
No Jargon Podcast
Publications
Teaching The Wire: Frameworks, Theories, and Strategies for the Classroom
(with ) (
McFarland Books, 2016
).
Analyzes various approaches for using The Wire to bring the experiences of marginalized communities into the post-secondary classroom as means for examining critical social issues. The contributors cover a range of topics including leadership, sexuality, class, gender and race.
"
Street Knowledge: Residents as Experts in a Global American City
,"
Kettering Foundation
,
2015
.
Presents the case of the Los Angeles Fire Department and its partnership with former gang members who now volunteer as gang interventionists. As a result of the collaboration, the LAFD is better meeting community needs. The report highlights the importance and effectiveness of partnerships between public organizations and community residents.
"
Vampires Suck: Parallel Narratives in the Marginalization of the Other
"
Theory & Praxis
36
, no.
3
(
2014
):
348–373
.
This article draws parallels between the narratives of vampires in the television show True Blood and the narratives of marginalized populations in the United States. Ultimately, this piece of research demonstrates how marginalized residents are treated like fictional vampires.
"
Building Democracy: Community Development Corporations' Influence on Democratic Participation, the Case of Newark, NJ
"
Operant Subjectivity: The International Journal of Q Methodology
36
, no.
2
(
2013
):
93-113
.
Explores the perceptions community residents hold on Community Development Corporations ability to foster engagement with local government.