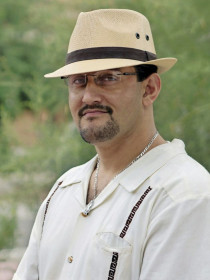 Nolan
L.
Cabrera
Full Professor of Education, University of Arizona
Connect with Nolan
About Nolan
Cabrera's research and new book, White Guys on Campus, is a deep exploration of white male racism, and occasional anti-racism, on college campuses. Dr. Cabrera is featured in the MTV documentary White People and is also one of three academic expert witnesses for the plaintiffs in Tucson Unified Mexican American Studies case (Gonzales v. Douglas). He is a recipient of the Spencer/NAEd postdoctoral fellowship.
Contributions
No Jargon Podcast
In the News
Nolan L. Cabrera
quoted on
white racial attitudes
,
"White People"
MTV
,
July 22, 2015
.
Publications
"
White Immunity: Working through the Pedagogical Pitfalls of Privilege
"
Journal Committed to Social Change on Race and Ethnicity
3
, no.
1
(
2017
):
74-86
.
Offers "white immunity" as a theoretical development of "white privilege."
"
Beyond Black and White: How White, Male, College Students See Their Asian American Peers
"
Equity & Excellence in Education
47
, no.
2
(
2014
):
133-151
.
Demonstrates the extremely racist ways White male undergraduates view their Asian American peers, despite professions of the "myth of model minority."