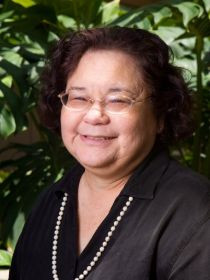 Laurie
Arial
Tochiki
Associate Dean Emerita for Student Services, William S. Richardson School of Law, University of Hawaii at Manoa, President and CEO, EPIC 'Ohana
Connect with Laurie
About Laurie
Tochiki's research focuses on child welfare services, specifically family and youth engagement. Overarching themes include collaborative processes for family strengthening and collaborative processes for systems change. 
In the News
Guest to discuss
EPIC 'Ohana programs that work to strengthen relationships for families and youth at risk
on
ThinkTech Hawaii
, Laurie Arial Tochiki,
February 24, 2016
.
Publications
"
Clinics-in-Common: Creating Uncommon Professionals
" (with ).
Psychological Services
8
, no.
4
(
2011
):
356-362
.
Describes an innovative multidisciplinary clinic model based at the University of Hawai'i's William S. Richardson School of Law that focuses specifically on the needs of children who have entered or are at risk of entering the foster care system. Discusses a medical-legal partnership within a community health center based on principles learned and experiences gained from this unique model.