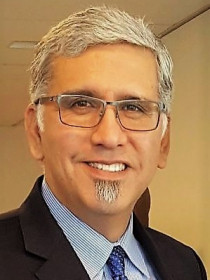 Henry
A. J.
Ramos
Senior Fellow, The New School
Connect with Henry
About Henry
Ramos' areas of expertise include DEI, social investment, public media and communications, higher education policy, and creative culture. At the Institute Ramos supports leadership, staff, and allied researchers in efforts to advance new thinking and action in applied research, social investment, and policy making. Ramos also serves as the Board Chair of Nonprofit Finance Fund, one of the nation's leading community development financial institutions and a case study in successful efforts to elevate racial equity in community finance. He also serves as an advisor to leading social investment innovators like Barrios Unidos and Company of Angels Theatre Group, as well as the Harvard Journal of Hispanic Policy, the Women's Foundation of California, PartnersGlobal, the Romare Bearden Foundation, Hispanics in Philanthropy, and Asian Americans Advancing Justice. Ramos was previously the chief executive officer of the Oakland, California-based Insight Center for Community Economic Development.
Contributions
Publications
Democracy and the Next American Economy: Where Prosperity Meets Justice
(
Arte Publico Press, 2019
).
Illustrates an in-depth assessment of US imperatives to create a more inclusive and sustainable economy, with specific examples of social innovations and progressive policy reforms that would help to pave the way.
Latino Young Men and Boys in Search of Justice: Testimonies
(edited with ) (
Arte Publico Press, 2016
).
Contains a curated collection of prison youth testimonials and reflections on American justice and young men of color, in the form of essays, poems, drawings, and tatoo art).
The History of Barrios Uniods Healing Community Violence
(edited with ) (
Arte Publico Press, 2007
).
Consists of a curated collection of essays on one of America's leading gang- and community violence prevention leaders, with commentaries by leading social justice advocates including Harry Belafonte, Dolores Huerta, and the late Tom Hayden.)
Nuevos Senderos: Reflections on Hispanics and Philanthropy
(edited with ) (
Arte Publico Press, 1999
).
Examines the opportunities and challenges facing U.S. Hispanic groups seeking to engage more fully in American philanthropic institutions and processes.