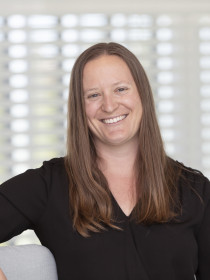 Clare
Daniel
Administrative Assistant Professor of Women's Leadership and Assistant Director of Community Engagement, Tulane University of Louisiana
Connect with Clare
About Clare
Daniel's research, teaching, and student program administration focus on reproductive rights, health, and justice.
Contributions
Publications
"
Documentary Review: Belly of the Beast
"
Feminist Pedagogy
2
, no.
2
(
2022
).
Provides a crucial tool for feminist educators teaching about reproductive injustice, racism, gender-based oppression, and the power of feminist activism. Summarizes the film and offers a discussion of how it might be used as a tool of feminist pedagogy.
"
Compromising Justice: Reproductive Rights Advocacy in the Time of Trump
"
Frontiers: A Journal of Women Studies
43
, no.
1
(
2022
):
68-92
.
Illustrates that arguments made for sex education in the name of preventing teen pregnancy and for long-acting, reversible contraceptives in the name of preventing abortion undermine the goal of reproductive self-determination. Reinforces notions that have long plagued advocacy for sex education and birth control in the United States—that certain people are illegitimate reproducers and that specific reproductive options are intolerable.
Mediating Morality: The Politics of Teen Pregnancy in the Post-Welfare Era
(
University of Massachusetts Press, 2017
).
Argues that teen pregnancy, specifically since the radical overhaul of welfare policy in 1996, was previously regarded as a social problem requiring public solutions but now is seen as an individual failure on the part of the teens involved.
"
'Taming the Media Monster": Teen Pregnancy and the Neoliberal Safety (Inter)Net
"
Signs: Journal of Women in Culture and Society
39
, no.
4
(
2014
).
Examines the social-media-based work of the National Campaign, showing the heavily disciplinary and moralizing functions of these strategies and their role within a new construction of social welfare. Argues that these tactics form a redefined notion of the social safety net based on a vision of citizens distributing vital, attractively packaged information among themselves via a privatized cybernetwork in order to maintain social well-being through the cultivation of proper sexual and reproductive behavior.
"
The Lee Marmon Photographs: Chronicles of the West
" (with ).
Collection Building
32
, no.
4
(
2013
):
133-138
.
Documents the acquisition and processing of an important Native American pictorial archive, the Lee Marmon Pictorial Collection, and to elucidate some of its research and cultural value.
"
Teen Sex, An Equal-Opportunity Menace: Multicultural Politics in 16 and Pregnant
" in
MTV and Teen Pregnancy: Critical Essays on 16 and Pregnant and Teen Mom
, edited by
Letizia Gugliemo
(
Scarecrow Press, 2013
),
79-92
.
Examines representations of teen pregnancy in 16 and Pregnant. Argues that the show helps consolidate a shift in the dominant discourse of adolescent reproduction, from an issue primarily associated with societal "ills", such as welfare dependence and urban decay in the 1990s, to one marking the personal and moral perils of teen sexual activity in the first decades of the twenty-first century.