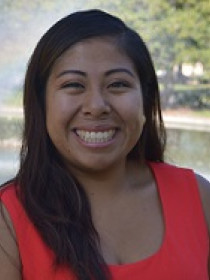 Cirila
Estela
Vasquez Guzman
PhD Candidate in Sociology, University of New Mexico
Connect with Cirila
About Cirila
Vasquez Guzman specializes in medical sociology, race/ethnicity, and health policy. Her work is concerned with systemic inequities and takes an equity lens to understand how to better address persisting health disparities. Her dissertation focuses on cultural competence and investigates the emergence, adoption, and implementation of medical education reform strategies to improve the delivery of care. Vasquez Guzman has served on a number of committees, participated in community-based research projects and has been part of organizations with a conscious effort to disseminate information beyond the academic walls. Currently, she works at the Center for Health Disparities at the University of New Mexico, where she is engaged with a research team investigating medical decision-making and bias among medical students.  Her research aims to positively influence the health of the most vulnerable among us all. 
Contributions
Publications
"
The Potential Conflict between Policy and Ethics in Caring for Undocumented Immigrants at Academic Health Centers
" (with ).
Academic Medicine
89
, no.
4
(
2014
):
1-4
.
Investigates how academic health centers get creative in order to provide care for undocumented immigrants.
"
WKKF Evaluation Report Family Engagement in New Mexico
,"
W.K. Kellogg Foundation
,
September 2014
.
Evaluates five family engagement organizations working with Latino/as communities emphasizing their ability to bridge families and schools.
"
Pharmaceutical Direct-to-Consumer Advertising and U.S. Hispanic Patient-Consumers
" (with ).
Sociology of Health and Illness
37
, no.
8
(
2015
):
1337-51
.
Demonstrates how pharmaceutical companies use cultural scripts to expand their medical authority among the growing Latino population in the United States.
"
Class and Race Health Disparities and Health Information Seeking Behaviors: The Role of Social Capital
" in
The Impact of Demographics on Health and Health Care: Race, Ethnicity and Other Social Factors
, edited by
J.J. Kronenfeld
(
Emerald Group Publishing, 2010
),
127-149
.