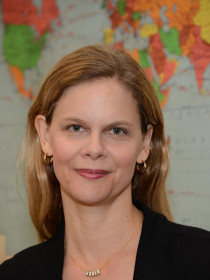 Beverly
Gage
Professor of History and American Studies and Brady-Johnson Professor of Grand Strategy, Yale University
Connect with Beverly
About Beverly
Gage's expertise lies in U.S. political history in the 20th century, especially political ideology and institutions, social movements, grand strategy and political strategy, presidential and Washington politics, and the history of the FBI.
Contributions
Publications
G-Man: J. Edgar Hoover and the American Century
(
Viking, forthcoming
).
Provides a comprehensive biography of J. Edgar Hoover, emphasizing his role in conservative politics and his influence as an architect of the American national security state.
"
Terrorism and the American Experience
"
Journal of American History
98
, no.
1
(
2011
):
73-94
.
Analyzes terrorism's varying dimensions in American history, from lynching and anti-capitalist violence through the Weather Underground and the Oklahoma City bombing.
The Day Wall Street Exploded: A Story of America in its First Age of Terror
(
Oxford, 2009
).
Tells the story of the 1920 Wall Street explosion, once known as America's worst terrorist attack. Explores the history of anti-capitalist and anti-Wall Street movements in the Gilded Age and Progressive Era. Analyzes early debates over the politics of terrorism.